Archives by date
You are browsing the site archives by date.
A heat warning has been issued this week for Metro Vancouver — make plans for you and your loved ones to stay cool during the day. Cooling centres and temporary water features are open on the UBC Vancouver campus.
Steve will be responsible for the successful operational delivery and management of Privacy Impact Assessments and related services. He comes to us from SFU where he was instrumental in ensuring that SFU had proper controls and processes in place to meet their regulatory requirements.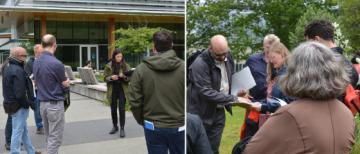 On June 16, 2022, Safety & Risk Services' Emergency Management held a drill for UBC staff who had completed BC Housing's Rapid Damage Assessment (RDA) and Coordination of Damage Assessment (CDA) training, in partnership with partners at BC Housing.
Shannon joined Safety & Risk Services in 2020, playing a key role in minimizing the impact and risk on UBC from loss or damage to its physical assets and from third-party liability allegations. As Director, Shannon will continue to be responsible for the management of the university's comprehensive insurance portfolio, and act as the leader and key expert with respect to insurance policies and related loss prevention programs.
UBC has recently updated the COVID-19 Campus Rules to align with the latest requirements from UBC and guidance from the Provincial Health Officer.